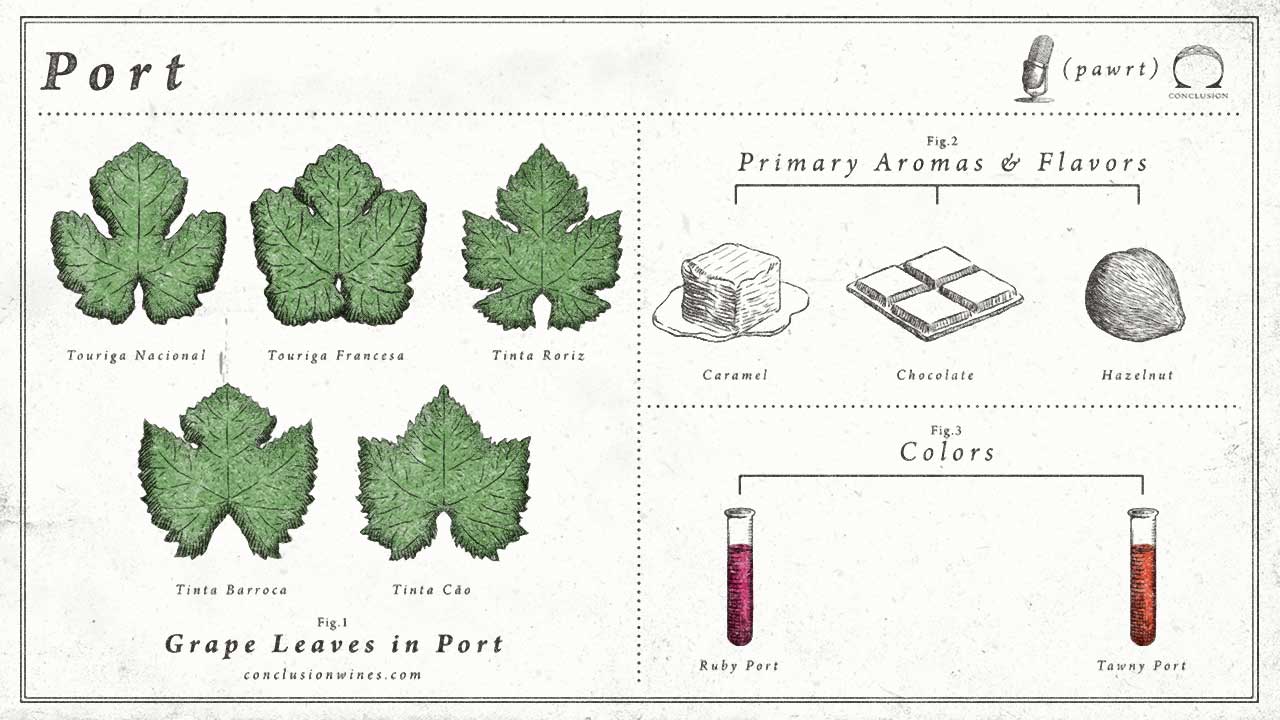 Port Quick Facts
Styles . . . Tawny Port and Ruby Port are the most common. Less common are White and Rosé Port.
Other Names . . . Vinho do Porto, Porto
Grape . . . Ports are almost always made from a blend of these grape varieties:
Touriga Nacional, Touriga Francesa, Tinta Roriz, Tinta Barroca and Tinta Cão.
Where It's Grown . . . According to the European Union Protected Designation of Origin guidelines, it can only be called Port if it comes from Portugal. More specifically, the Douro Valley region in northern Portugal.
Serving Temperature . . . Serve around room temperature around 60° – 65° F
Storage Temperature . . . Store between 50° – 55° F
Wine Glass . . . Enjoy Port in a dessert wine glass. Here's an example.
Best Used By . . . LBV (Late Bottled Vintage) Ports are typically meant to be drunk younger. If the cork on your Port bottle looks like this, it's a Port that's meant to be drunk right away. If it's a regular cork, it can hold for decades.
Tastes to Expect . . . Tastes for Port vary greatly depending on the blend, but common tastes include sweet flavors such as caramel and chocolate with a nutty characteristic. Fruit flavors are also common with red and black fruits such as raspberry and blackberry being top on the list to expect.
Pairing . . . Dried fruits, crème brulee, dark chocolate and bread pudding. Because of the sweetness of Port, it's also common to have as dessert by itself.
Port Fun Facts
Port has added spirits to stabilize the wine for long term aging (usually brandy).
Each port style starts out with the same manner, but each style has different aging processes.
Almost all the brandy used in Portugal is imported from South Africa.
Legally all Port must be aged for a minimum of 2 years before release, it's illegal for a Port producer to sell more than 30% of their vintage, this means they are legally encouraged to age their wines. Here's a good article on understanding Port wine labels.
Although official Port can only come from Portugal, winemaking regions on Australia, France, South Africa, Canada, India, Argentina and the United States all make fortified wine in the style of Port.
In the 1700s, Port was used to combat gout and other sicknesses. Now we know alcohol consumption makes gout (and many other sicknesses) even worse.
All Port is made in the Douro region of Portugal, and has been made there for over 2,000 years.