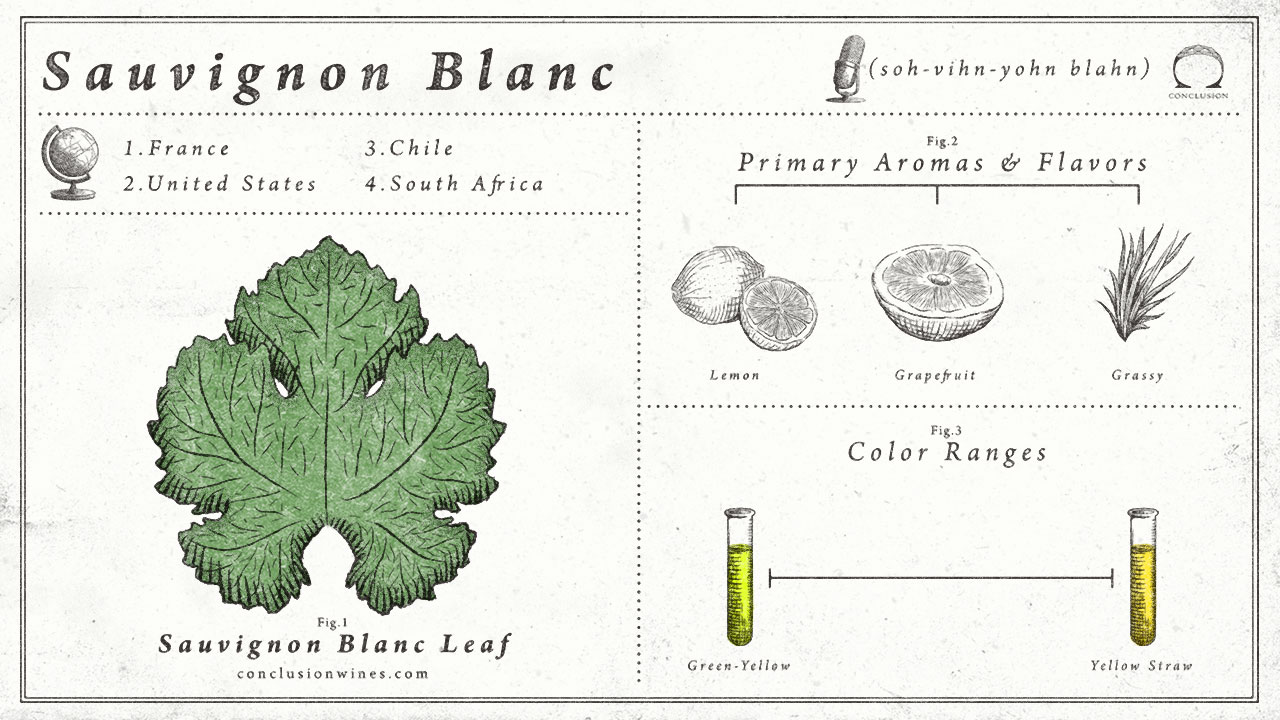 Sauvignon Blanc Quick Facts
Nicknames . . . "Sauv Blanc"
Other Names . . . Sauvignon Jaune, Fumé Blanc (France), Muskat-Silvaner (Germany & Austria) and Sauvignon Musqué
Grape . . . Sauvignon Blanc
Where It's Grown . . . France, United States, Chile, South Africa, Australia and Spain
Color . . . Green-yellow to a yellow straw
Serving Temperature . . . Bring out ~20 minutes before serving to let the wine temperature raise to a crisp 40° – 50° F.
Storage Temperature . . . Chill in your refrigerator between 35° – 40° F.
Wine Glass . . . A standard white wine glass with a smaller bowl and mouth. Here's an example.
Best Used By . . . Drink within two years of the vintage date on the bottle.
Tastes to Expect . . . Citrusy flavors such as lemon, grapefruit and melon. Grassy, cool and hints of green apple are common, too. If the varietal was aged in an oak barrel, it'll take on essences of vanilla and spices.
Pairing . . . Lighter meats and even vegetables such as artichoke and asparagus to summer salads.
How to Pronounce Sauvignon Blanc
Sauvignon Blanc Fun Facts
The Sauvignon Blanc grape is one of the parent grapes to the Cabernet Sauvignon, which is used to produce the "king of red wines".
Dry-style Sauvignon Blanc is usually referred to as Fumé Blanc.
Because it's grown around the world, Sauvignon Blanc can have very different flavors depending on the region where it was grown.